56 Craft Breweries
Over 170 Styles Of Beer And Cider
Telluride Blues & Brews Festival first started in 1994 as the "Telluride Brewers Festival" with 18 breweries showcasing their best suds on Main Street in Telluride. Fast forward 26 years later and the festival has grown to 56 breweries with over 170 different styles of beer and cider on display in Telluride Town Park. Remaining true to our roots, the festival continues to grow and support local and regional craftsmanship in the craft beer industry.
Sierra Nevada Brewing Co
Official Craft Beer Partner
Sierra Nevada Brewing Co. is proud to be the official craft beer partner of the Telluride Blues & Brews Festival and salutes the festival's efforts to fight global warming. As environmental leaders in the brewing industry, Sierra Nevada is proud to work with responsible partners who share our sustainability goals. Be sure to check out Sierra Nevada featuring seven different flavors on tap all weekend in addition to exclusive styles at the Grand Tasting, House of Brews and High Altitude Craft Beer Lounge!
Back Porch Lager
ABV: 5.4% IBU: 39 - Back Porch Lager was created by the Blues & Brews staff at a unique 'one-of-a-kind' Beer Camp weekend, this lager is available exclusively at the festival.
Sierraveza Easy Drinking Lager
ABV: 5% IBU: 18 - Inspired by the classic cervezas served ice cold by the beach, we created our own take on those light and easy beers born south of the border. Sierraveza is golden and crisp, with a balanced malt flavor and a hit of floral hops that will have you calling out for another round.
Hazy Little Thing IPA
ABV: 6.7% IBU: 40 - This is hazy with modest bitterness and intense hop character. Making an unfiltered hop bomb may seem crazy, but to us, it's a hazy little thing called IPA.
Kellerweis - Bavarian Style Wheat
ABV: 4.8% IBU: 15 - Inspired by traditional Bavarian techniques. With a full, fruity aroma and notes of spicy clove and banana bread, Kellerweis is a truly unique brew.
2019 Oktoberfest
ABV: 6% IBU: 20 - It's the ultimate season of revelry, so we teamed up with Germany's Bitburger Brewery for an Oktoberfest that turns backyards into beer gardens. Rally your friends and celebrate with a festbier whose rich amber color, secret hop blend, and smooth malty flavor bring the Munich tents to you.
Pale Ale
ABV: 5.6% IBU: 38 - Pale Ale's unique piney and grapefruit aromas from the use of whole-cone American hops have fascinated beer drinkers for decades.
Skiesta Easy Drinking Lager
ABV 5.2% IBU: 18 Brewed for perfect days and storied nights, this crisp lager—with its flavorful European malts and kiss of American hops—promises an easy-drinking finish that's just right for après-ski or après-just-about anything.
Torpedo Extra IPA
ABV: 7.2% IBU: 65 - Torpedo Extra IPA, featuring our "Hop Torpedo," is an aggressive yet balanced beer with massive hop aromas of citrus, pine, and tropical fruit.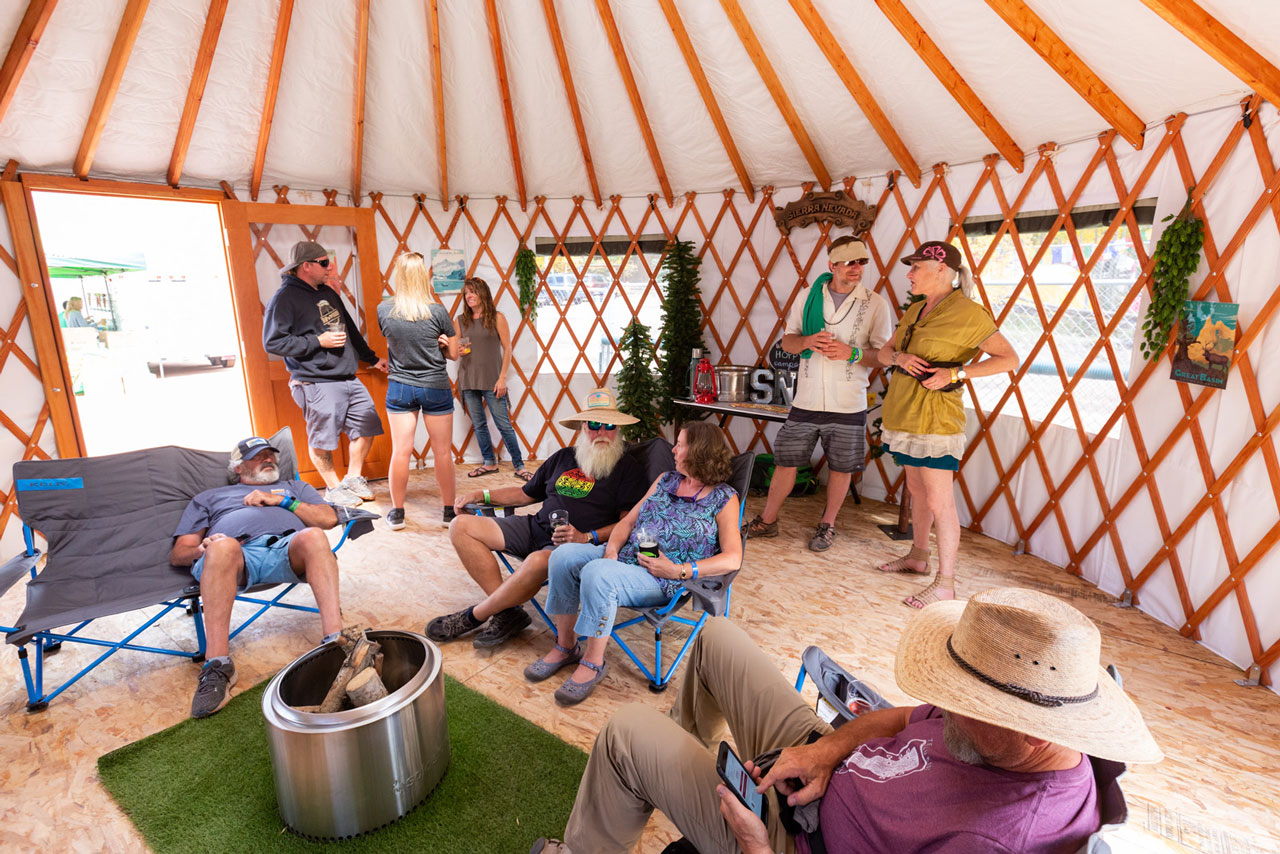 High Altitude Craft Beer Lounge
Powered by Colorado Yurt Company
Sierra Nevada Brewing Company and Colorado Yurt Company are proud to present the High Altitude Lounge Craft Beer Lounge! Throughout the festival, the lounge will give attendees a chance to try rare creations and interact with the folks from the brewery in a unique atmosphere.
A Rotating Selection of Rare Sierra Nevada Offerings
During the festival Sierra Nevada will unveil rare and sought after craft beers. Many of these beers are only available at the brewery, special events or have spent time aging deep in the brewery's vaults. Last year's selection of beers included Tumbler Autumn Brown Ale, Ruthless Rye IPA, Hop Bullet Double IPA, Narwhal Imperial Stout, and Zappa Wild Stache. Listen up, this year's selection of rare beers will be unveiled from the stage in between sets each day of the festival. Once each keg is tapped, the specialty beer will be available until it's out, don't miss out!
The High Altitude Lounge
The High Altitude Lounge features a special hangout area inside and around a Colorado Yurt Company yurt. The area will feature furniture from Kelty, Sierra Nevada swag and give you a chance to chat with folks from the brewery. Grab a special beer, kick your feet up and enjoy the festival from the comfort of a Colorado Yurt Company yurt at the Lounge.
House of Brews
Try One Or Try Them All
Along with Sierra Nevada Brewing Co., the House of Brews features 5 additional breweries and cideries with different flavors being poured throughout the entire weekend. See the beer styles below!
Pale Ale | ABV 5.6% - Pale Ale began as a home brewer's dream, grew into an icon, and inspired countless brewers to follow a passion of their own. Its unique piney and grapefruit aromas from the use of whole-cone American hops have fascinated beer drinkers for decades and made this beer a classic, yet it remains new, complex and surprising to thousands of beer drinkers every day. It is—as it always has been—all natural, bottle conditioned and refreshingly bold.
Hazy Little Thing | ABV 6.7% - A hop-heavy, unfiltered, hazy little thing called IPA. As brewers, we get the privilege to sample our beers straight from the tanks in all their raw glory. Some beers need a little polishing to get ready to go out into the world, while others—the hop-heavy, rowdy, crowd-pleasers—should just be left alone. We wanted to share this brewery-only treat with you, so we present this Hazy Little Thing, our unfiltered, unprocessed IPA, straight from the tanks and into the can.
Mexican Logger | ABV 5.2% - The perfect Mexican Lager. Light and refreshing, it really hits the spot after a long day of brutal chainsaw work. SAAZ hops are the star in this amazingly delicious lager.
"If you are a closet Pacifico drinker during the warmer weather then seek this one out. It is a far better brew, my friends."
Telluride Mountain Beer Kolsch | ABV: 8.5% - An easy drinking Kolsch. It's light, crisp, clean and extremely refreshing.
White Rascal Belgium Style Wit | ABV 5.6% - An authentic Belgian style white ale, this Rascal is unfiltered and cleverly spiced with coriander and Curaçao orange peel producing a refreshingly zesty classic ale.
"Apres-cot" Apricot Blonde Ale | ABV 5% - 100% of the water in all Bonfire beer comes from Eagle's Brush Creek, fed by springs and snow-melt high in the Sawatch Mountains. With nugget hops, along with munich and white wheat malts, the Brush Creek is Bonfire's lightest, smoothest offering. This beer is the popular Brush Creek Blonde with apricot puree added.
Harvest Apple Hard Cider | ABV 6.2% - Harvest Apple is hand crafted using a perfect blend of Hotchkiss, Colorado apples. It's a semi-sweet hard cider and has a bold and refreshing apple taste. USDA Certified Organic!
Lazy Daze Hard Lemonade | ABV 4.7% - Artisanally made by combining our Orchard Original with Big B's Orchard Recipe Lemonade. It's a perfect marriage between dry cider, sweet and tart lemonade. Ultra refreshing and amazingly crisp!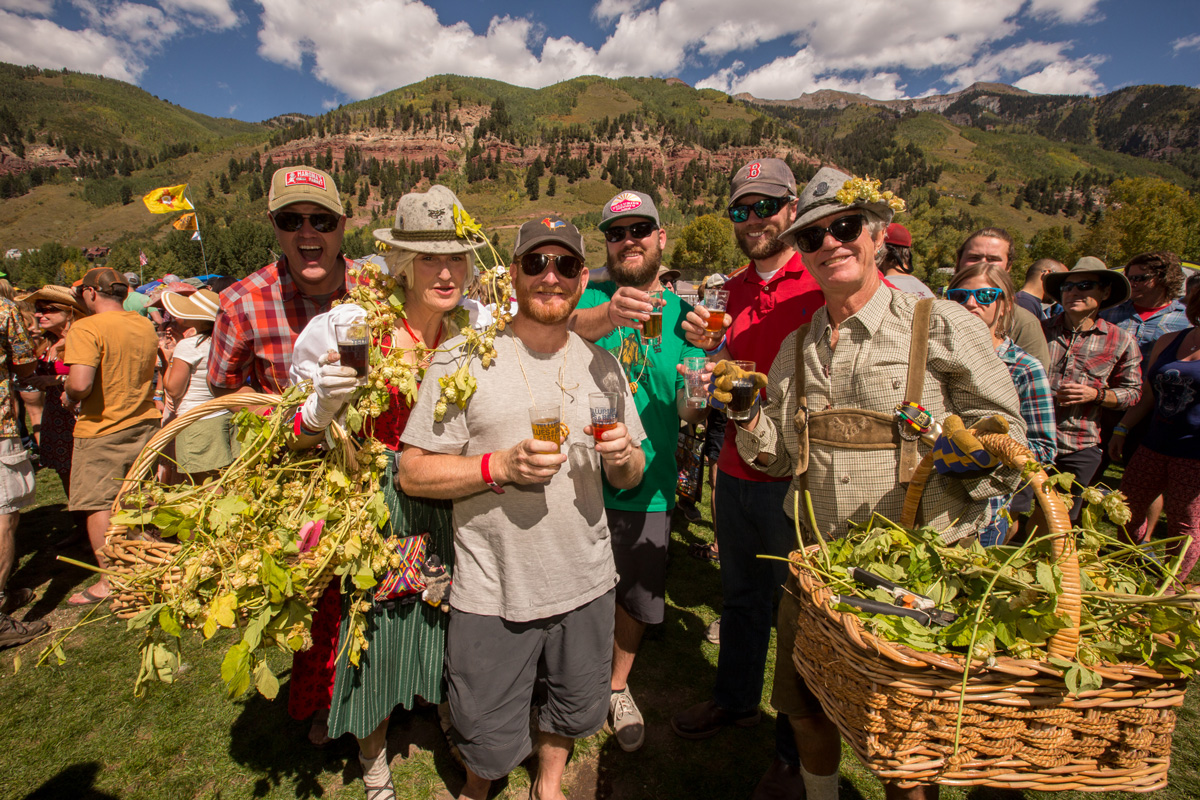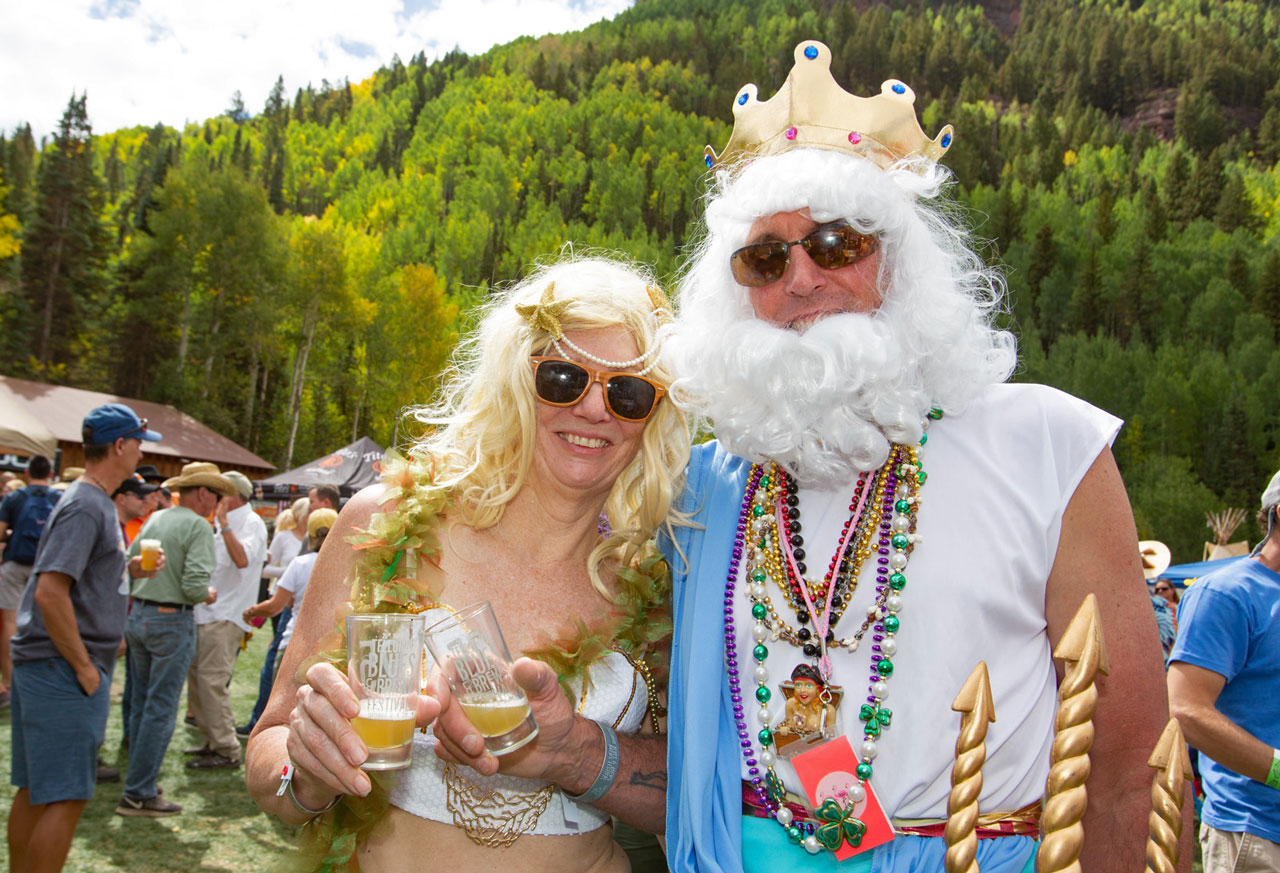 Grand Tasting
Presented by the Telluride Blues Society
Join us to celebrate our Grand Tasting on Saturday, September 14 from 12:00 pm to 3:00 pm where 56 craft breweries participate with over 170 styles of beer and cider. Cheers!
If you haven't experienced the Grand Tasting yet, you're definitely missing out! As you walk into the beautiful Telluride Town Park Festival Grounds you're handed a special souvenir tasting glass. This tasting glass is your vessel to sample some of the best craft beer in the world. From easy-drinking lagers, to fruity sours and hazy IPAs, the variety of beer styles are endless, while costumes, high-fives, smiles and massive crowd-wide cheers are all frequent.
After you've tried as many beers as you like, it's time to vote for your favorite brewery. When the Tasting is over, the most popular brewery is crowned "Best of Fest" and awarded a trophy on stage. Last year's champion and hometown favorites, Marble Brewing Company, will be back this year to defend their title!
2019 Grand Tasting Breweries
These 56 breweries will pour over 170 styles of beer and cider on Saturday, September 14 from Noon to 3 pm. Cheers!