Get To Know the 2019 Festival Vendors
Festival Food & Shopping
In addition to three days of world-class music, craft beer and outdoor recreation, festival attendees can enjoy a wide variety of food and craft vendors at the 2019 Telluride Blues & Brews Festival!
Food Vendors
If you enjoy food like we do, the savory, mouthwatering food menus from the Telluride Blues & Brews Festival vendors will keep your taste buds satisfied all weekend long.
Our vendors satisfy even the most particular diet. Gluten-free? They've got you covered! Vegan or vegetarian? No problem! Paleo diet? You're in luck! See the full menu below and prepare for a scrumptious weekend!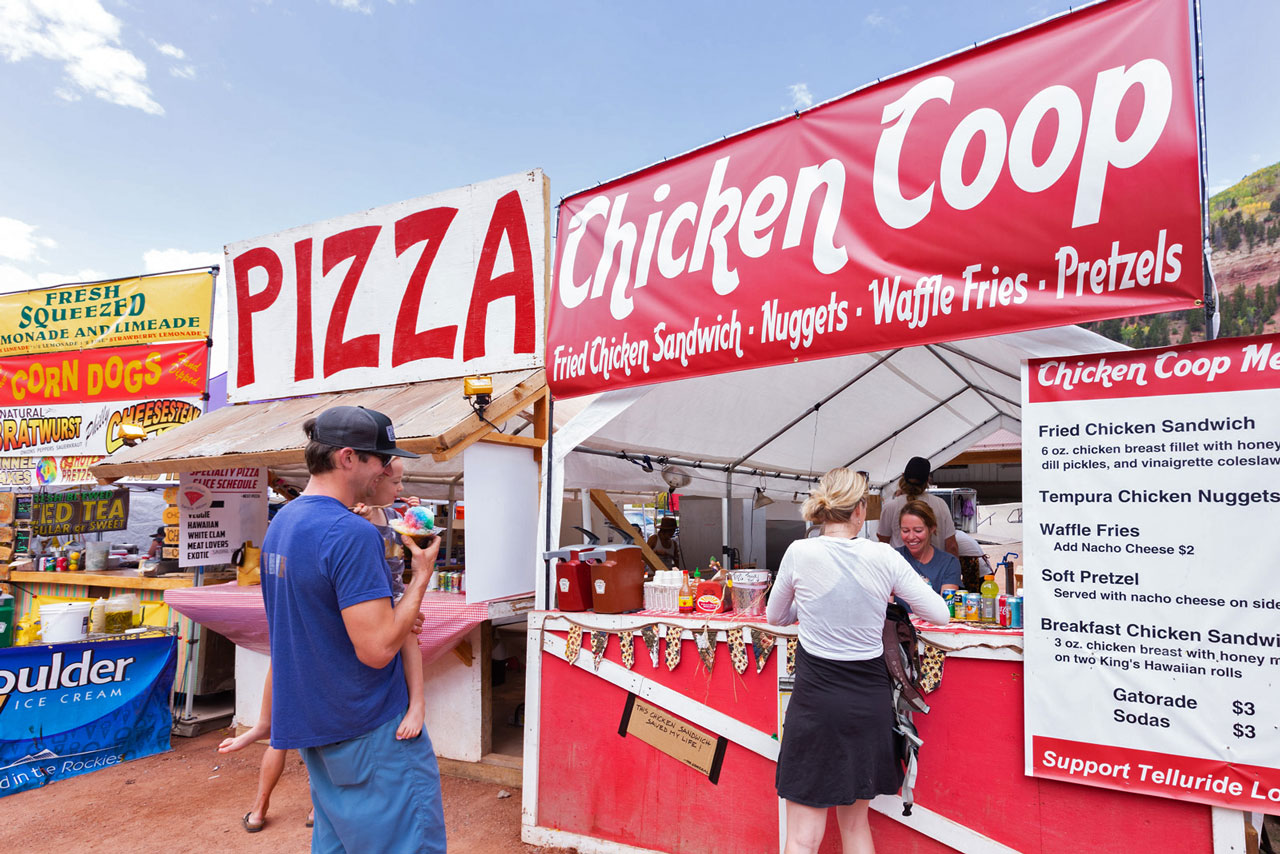 Bloomberries Box Cart
Philly Cheesesteak with onions, red bell peppers and mushrooms, Boulder Sausage/Brats with fresh made buns, grilled onions, peppers and kraut, Hand-Dipped Corn Dogs (it's what we're famous for), Hot Dogs, Turkey Legs, Funnel Cakes (AKA beer sponges), Fresh squeezed Lemonade, Iced Tea and Shaved Ice.
Fried Chicken Sandwich (with vinaigrette coleslaw, dill pickles and honey mayo), Tempura Chicken Nuggets, Waffle Fries, Soft Pretzels and Breakfast Chicken Sliders (half chicken breast on a Hawaiian roll with honey mayo).
Coffee, Espresso, Smoothies, Hot Tea, Hot Chocolate, Muffins and Cookies
DC Concessions
Fried Catfish and Shrimp-Twisted Taters, Ribbon Fries, Curly Fries, Sweet Potato Fries, Jalapeño Poppers, Mozzarella Sticks and Fresh Squeezed Lemonade (Regular and Strawberry).
Gyros, Veggie Gyros, Greek Salad with Chicken, Spanakopita, Dolmathes, and Baklava.
Naan Wraps (Lamb, Chicken or Veggies), Rice Bowls (Lamb, Chicken or Veggies), Combo Dinners, Veggie Snacks, Mango drinks, Chai Tea and Rose Water.
Mama P's Blackened Crawfish Mac & Cheese, Creole 'Nachitoches' Meat Pies, Creole Lima Beans with Friend Chicken Wings, Spinach Salad and Fried Oysters, Louisiana Jumbo Shrimp Creole, Palisade Peach & Mint Iced Tea, Hibiscus Rose Water Mint Tea.
Nom Nom Doughnut Bites or new Waffle Lollys - both in following flavors
Old Skool – Chocolate glaze *add sprinkles
White Out – Vanilla glaze * add sprinkles
Zebra – chocolate and vanilla glaze * add sprinkles
Summa Time – Lemon glaze, fresh berries
Pappa Bear – chocolate frosting, caramel drizzle, salty pretzel bits
Piña Colada – Pineapple glaze, shredded coconut
Sweet Tooth – organic cane sugar and cinnamon
Bumble Bee – Lemon Glaze with dark chocolate drizzle
Smoothies
Piña Colada – Pineapple, coconut, banana, honey
Tropical Squeeze – Strawberry, pineapple, orange, mango, banana
Peach Sunshine – Peach, Orange, banana, lemon juice, ginger
Mango Smoothie – Mango, coconut, banana, honey
Drinks
Strawberry lemonade, Watermelon Mint, Blackberry Ice Tea, Arnold Palmer, Slow Brewed Black Iced Tea, Slow brewed Artisan Iced Coffee
Frozen Treats
Nom Nom Ice cream Sandwich, Waffle Ice cream Sandwich, Fresh Berry Popsicle
Pulled Pork, Brisket & BBQ Chicken Sandwiches, Steak Fries, Seafood Gumbo, Jambalaya and Po' Boys: soft-shell crab, shrimp, and catfish.
Paella Valenciana: Local, pastured raised chicken, *peppers, *green beans *garrafon *paprika, *turmeric, and saffron with Calasparra Paella Rice from the mountains of Murcia, Spain. All cooked to perfection in a delicious, healing *chicken bone broth. *Organic. Gluten free & Dairy free.
Tortilla Patata: A Spanish style omelet: *Free range eggs, *sweet potato, *potato, and *onions. *Organic. Contains: Eggs & Gluten if served with bread.
Small Cheese Plate: Delicious Spanish Manchego Cheese served with fresh bread and Spanish Olives
Jamón Serrano & Manchego Cheese Plate: Full-flavored Spanish ham – aged for 18 months in the mountains of Spain and delicious Spanish Manchego Cheese. Served with Spanish Olives. Contains: Dairy
Chocolate Chip Cookies: Made with organic whole grain spelt flour and organic panela (non-refined cane sugar). Contains: Gluten, Eggs, & Dairy.
Spelt Flour Snickerdoodle Cookies: Made with organic whole grain spelt flour and organic panela sugar (non-refined cane sugar).
Chicken & Basil Dumplings, Garden Vegetable Dumplings, Curry Chicken Dumplings and Crispy Spinach & Cream Cheese Wontons (add peanut sauce or substitute red curry sauce).
Blackened Catfish Tacos, Blackened Chicken Tacos, Balsamic glazed vegetable Tacos, Big Daddy's Chowder, Kiddies Quesadilla. All meals come on a bed of salad without the flour tortilla for a gluten-free option. Fresh Guacamole with chips and salsa and soft drinks.
Stokers
Beef Chili, Veggie Chili, White Chicken Chili Green Chili, Cornbread
Pizza (Cheese, Veggie, Pepperoni, Loaded), Cookies, Brownies, Rice Krispie Treats and soft drinks.
Steak, Chicken, Pork or Veggie Burritos, Tacos with your choice of Meat (steak, chicken, carnitas, or veggie, Salad with Romaine Lettuce, seasoned black beans, shredded cheese, salsa, guacamole, and your choice of meat, Extras - Guacamole, fried potato, salsa con queso, sour cream, Sodas, vitamin water, Red Bull, and Horchata.
Craft Vendors
Shop at the local craft booths for fine jewelry, clothing and keepsakes. Explore all of the vendors below!
Native inspired designs from here and over yonder. The items we sell include unique Hill Tribe silver earrings and pendants from Northern Thailand, wax cast earrings in silver and brass from Bali, carved jade and other stone pendants, sage, copal, palo santo and natural Tibetan incense, and featuring Amarantha Designs. Amarantha Designs are my creations produced locally in New Mexico by a women's collective that employs low income women. Their social mission is to alleviate poverty across generations by supporting educational opportunities for both the employees and their children.
Capricious and captivating, Autumn Teneyl is a celebration of eclectic chic: Luscious organics, stretch laces, vibrant colors, soft and flowing, body-conscious details; Glorious pants, tops and dresses with no binding stiffness to disrupt the grace and beauty of females in motion. We will be selling our pants, leggings, tops, dresses, skirts, shorts, jackets, wraps and more!
Filosophy jewelry was designed for the woman who is both socially and fashionably conscious. The designs were created for the smart, creative, independent and free spirited woman who want to express their ultimate femininity, their sensuality and their own personal style with their jewelry. With Filosophy jewelry, fashion meets fair trade. Not only will you will experience the benefit of wearing unique handmade quality jewelry, but you can know that your purchase supports freedom and independence for the artisans who make it. We will be selling handmade Jewelry on silk and leather, Handmade Bags from vintage materials, Hand- hammered brass earrings/wrap bracelets, Handmade clothing for yoga and hippies, and festival headbands
July Five was born in Telluride, Colorado in 1998. Inspired by the Après lifestyle of living year round in the Rocky Mountains, this functionally elegant clothing line for women, never fails to be the quintessential companion for any female, doing any activity. Whether you find yourself on snow, water, or high up on a mountain top, among the wildflowers, July Five Clothing enhances anybody's desire to feel their inner chic, spirit, and sparkle. We will be selling functionally elegant clothing for women in après casual style - dresses, skirts, velvet pants, shirts, tanks and more!
Loki is the original "All-In- One Outdoor Clothing Company" specializing in patented convertible hand and face warmth, backpack-able pockets and all-in-one convertible accessories. Loki was founded by the mountain climbing Anderson brothers in Colorado. Dirk and Seth wanted gear that would change with the weather for mountains and everyday adventure. They named Loki for the Nordic shape-changing god of mischief and trickery. We will be selling jackets, hats, gloves, sandals and more!
For jewelry designer and Mana Culture co-founder Jahnavi Jasmine, traveling to distant lands has provided the ultimate inspiration for her bohemian creations -- and her business philosophy. As a child, Jahnavi can remember designing her own pieces at a very early age, drawing artistic influence from the culture, the energy and the natural splendor that surrounded her.
We will be selling handmade gold fill and sterling silver jewelry made with all natural gemstones. We make necklaces, rings, bracelets, earrings and cuffs. All necklaces are designed to be layered or can be worn individually, and they are all adjustable. We also have a collection of handmade hats, with feathers and natural crystals around the brim.
We are a husband and wife team, (Kevin and Kyla Beavers), with over 10 years professional experience creating artistic and unique tie dye clothing. Mandala Dyes creates one of a kind wearable color and hanging art with spiritual and peaceful intent, designed to help open hearts and expand minds worldwide. In our home Studio in Fort Collins, Colorado. Tie Dye is, was, and will always be a family affair. We have two wonderful daughters named Stella and Ramona. Our lucky girls have been raised on the road exploring, playing, dancing and camping at festivals. Kevin and Kyla started creating tie dye together in 2004. Since then we have been vending our clothing and textiles at various music festivals, farmers markets, and art shows. We travel mostly in the Colorado and occasionally up to Idaho and the Pacific Northwest.
We will be selling pants, t-shirts, tanks, button-downs, sarongs, skirts, dresses, yoga clothing, tapestries and more!
MetalRock Designs
MetalRock Designs specializes in handcrafted mountain lifestyle jewelry designed for the free spirited by the free spirited. Each piece is created in my home studio in Telluride, Colorado. My inspiration comes from a passion for rock music and my ever evolving quest for spirituality. I have spent over 28 years in Colorado and the southwest, during which time I have embraced the freedom and growth offered by mountain living. All of this has fueled the desire to express myself creatively.
We will be selling pendants, rings, earrings, bracelets and more!
MoonBear Jewels
We adore adorning people. We love the moment when a woman puts something on and feels like they are ready to go meet the world. There is nothing more satisfying than bringing out someone's inner beauty. This is why I do what I do. In our everyday world, there is nothing more gratifying than helping make someone feel beautiful.
Nicole Apostoli, founder and designer of Presh by Nicole Apostoli, has been making jewelry for as long as she can remember. Nicole started out making pieces for herself and for friends until local boutique owners became interested in her work. She sold her one of-a-kind creations as she studied art and design at the California College of the Arts in San Francisco, where she received her BFA in jewelry and metal arts in 2001. Presh by Nicole Apostoli showcases Nicole's versatility as a designer and features a rich assortment of precious metals, semi precious stones; hand crafted leather, as well as vintage and rare fabrics from around the world. Each piece is a limited edition or a one of a kind handmade treasure.
We will be selling Bohemian Hand made silver, gemstone and leather jewelry, leather bags, hand made accessories and a limited amount of shawls and ponchos.
Stecher Family Silversmiths
We make jewelry inspired by rock art. We are known for our innovative style, great quality, and competitive prices. Our belts are crafted with the finest leatherwork. Popular belt designs include the grizzly paw and the wolf conchos. We also make rad flat brim hats with elk, moose, turtle, bear paw and bison among other popular patches. Some blingy and some au natural. We make the hat patches from recycling leather couches. Because Marty is a metal-smith we also make hand worked aluminum patches which go on the leather hats.
Super Rad Cape Company
Here at Super Rad Cape Company we are committed to creating quality handmade super hero capes and party accessories to help people look good, while expressing themselves freely! That's why we design and handcraft all of our merchandise with durability and light-hearted beauty in mind. We make our capes in a variety of shapes and sizes to fit everyone, kiddos to adults! We also recently started making colorful button up party shirts for men out of brightly patterned and hand selected spandex blend fabric! In addition, we hand make a selection of ear flap styled fleece hats for chilly nights, and have a small selection of other accessories to complete any ensemble such as sunglasses, or a variety of wand-like toys for kiddos. Our main mission is to create fabulous, durable clothing items that people can't find anywhere else, that encourage them to be the best version of themselves, and feel comfortable, nay, empowered by who they are!
We make by hand and sell hand-crafted hats and hat accessories made of hand-woven panama straw, wool, rabbit and beaver fur in cowboy, beach, and fedora styles. During the festival, we will custom make hats right on the site, giving customers a very unique experience!